Twitch.tv is the best place for streamers who just love to share their gameplay or talent. It's a great place to share knowledge and have fun playing with thousands of people watching you in real-time on all devices (Windows, Mac, Android and iPhones). However, sometimes we as players and viewers, we experience some issues with the browser when trying to access this website, and the most known issue with Twitch is Twitch Error 2000. This usually happens whenever you try to open a live stream on Twitch.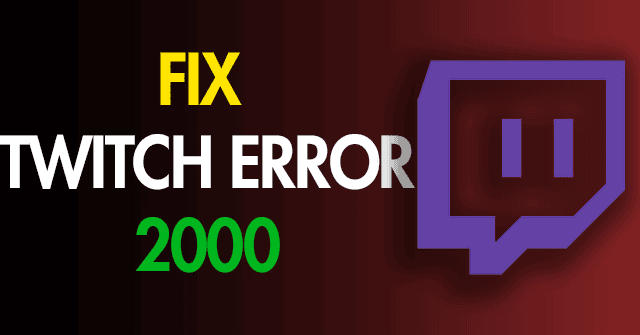 Today, we will walk you through all the possible fixes to this problem and hopefully, you will soon get back to the website and you will never see this issue arises again. The tips below on how to fix Twitch error 2000 will be explained to ensure that you applied it correctly.
Clear Cache
Clearing cache in Chrome is the first and obvious fix to any browser-related issue. Cache is basically used to simply save copies from the websites you visit locally on your hard drive so the browser doesn't have to get the website data from the internet when you visit it again. This is mainly to speed up the loading time of a website the second time you visit it.
In our case, Twitch is just another website that has a lot of static elements that don't need to be loaded from the server each time you visit the website.
On Chrome, you easily clear cache by following the below steps:
At the top right, click on three dots
Click More tools. Clear browsing data
At the top, choose a time range. To delete everything, select All time
Select "Cookies and other site data" and "Cached images and files"
Click Clear data
This will clear any locally stored data. Next time when you visit the website, it will load it from the server rather than from the local storage which can sometimes get corrupted or outdated which may result in the Twitch error 2000.
Usually, clearing the browser's cache fixes the issue. However, some people will still experience this error even after refreshing the stored data.
Re-install Chrome
If you still experiencing the issue, try reinstalling the browser.
Close all Chrome windows and tabs.
Click the Start menu
Click Apps.
Under "Apps & features," find and click Google Chrome.
Click Uninstall.
Confirm by clicking Uninstall.
Check "Also delete your browsing data."
Click Uninstall.
Wait until it finishes uninstalling.
Download and install Chrome.
Network Settings
Restart the internet modem or router
Before configuring the network settings on your computer, you need to double-check if the connection is stable and the router is working as intended, serving and receiving data as expected. Restarting the router should fix any internet stability related issue.
After restarting the router or modem, close down the browser and open it again, then go to Twitch website.
If you're having the same problem, then it might be worth checking the subnet mask configuration which will be our next fix.
Subnet mask configuration
If the Subnet mask is not configured correctly, it might create a problem related to IP assignment.
To rectify this issue, you will need to set the subnet mask manually to 255.255.255.0.
You can simply do that by following the steps below.
Open the Settings app > go to Network & Internet category
Select Ethernet or Wifi (if you're using a wireless connection)
On the right side of the screen click on the Network shown
You will be presented with the IP settings, click on Edit under IPv4 gateway
Change the first dropdown menu to Manual and activate IPv4 if it's disabled
Set the Subnet prefix length to 24 and press on Save
24 is the equivalent to 255.255.255.0 in subnet mask, so you're all set now.
Flash DNS
The following steps will show you how to flash DNS in order to fix Twitch error 2000.
Right-click on Command Prompt and select Run as administrator
When you see the CMD pops up, type in the following command
ipconfig/ flushdns 
And that's it, you now flushed the DNS. In order to apply the changes, restart your computer and open the browser and try accessing Twitch again.
Disable Extensions
Some extensions may interfere with Chrome functionalities, especially Adblockers. Nowadays, multiple websites, like this one, are earning money using Ads. A lot of them are now using what's called Ad blocking detectors which detect the extensions that block the loaded ads and display a message on the screen asking the user to kindly disable the Adblocker.
Twitch also runs ads on streams but doesn't give any warnings. Twitch error 2000 might be caused by the Ad blocking extension and by disabling it only for Twitch, the issue might be fixed after a browser refresh.
Disable Antivirus
In these days, having an antivirus installed on your Windows computer is crucial when it comes to security and prevent any data corruption or leakage. Quite frequently, Anti-Viruses do what is called "False Flags" which means it might block a certain program or website from being access thinking that it contains malicious components that may affect the computer in a negative way.
Temporarily disabling your Antivirus and double-checking the Twitch stream that you're having issues with, is a great way to make sure if the Antivirus was causing the blockage or not. If it's the reason behind the error, then adding Twitch to the Antivirus whitelisted websites would be a great call from your end. However, if you're still receiving the same error, adding the website to trusted sites might fix it for you.
Adding Twitch to your Trusted Sites List
Adding Twitch to the Trusted Sites list is easy and quick and you can apply this fix on all other websites that display a security message or blocked from access.
Open Internet Explorer > Tools > Internet Options, and then click the Security tab.
In the "Select a zone to view or change security settings" box, click Trusted Sites, and then click Sites.
Check "Require server verification https: for all sites in this zone"
Enter the URL which is "https://www.twitch.tv/" of your Trusted Site, then click Add and Close.
Close all of the opened browsers and access Twitch again.
Try Another Browser
If the problem persists, it's time to try another browser. Opera is a decent browser and it even has a gaming version in which Twitch is integrated and you can easily access it from the Home page of the browser. This version is called Opera GX.
You can try other browsers, but we recommend you use browsers that are known to be fast and reliable (I am looking at you Internet Explorer).
Install The Desktop Client
If nothing from the above fixes worked, then it's time to use Twitch desktop client. You can download the client from here.
Using a dedicated application to access a website is always a good choice to ensure the experience stability and fluidity and streams are no exception.
Install CCleaner
CCleaner is a well-known application that is used whenever everything else fails. CCleaner is an application that cleans your hard drive from any unnecessary data like old apps, Registry Keys and temp files.
And that it! That was all of the fixes. If the above fixes didn't help you, which I doubt, you can use the mobile Twitch application and access the website and your favorite stream from your Android or iPhone.