Nowadays, streaming can be a bit tricky with the new technologies and games coming out every day. If you are only relying on a single PC streaming setup (gaming and streaming on a single computer) and not using 2 PC streaming setup, then you will most probably suffer from performance issues. The quality of the stream will decrease and in consequence, it will negatively impact the chance of potential viewers to subscribe or even stay and watch your stream.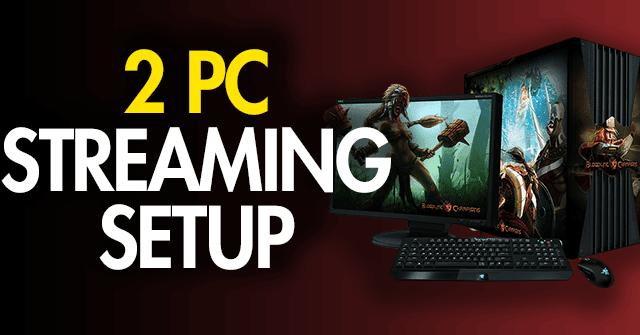 Using one PC for gaming and streaming is your best bet to get the minimum performance as the two tasks will utilize and share the same hardware resources (GPU, CPU, Memory).
WHY Dual PC streaming setup? Can I Just Use a Single PC?!
Separating the two tasks by using one computer for each one will increase the quality of your stream making it more appealing to the eye and eventually, a guaranteed ticket to a larger audience.
The second PC which will be dedicated to streaming will be doing all of the hard work; from capturing and blending the audio/video together without frame drops to running your cool effects above or below your facecam. As you might expect, this is taxing on your GPU and CPU.
If you are serious about building a streaming community or a career in general, then a 2 PC streaming setup is highly recommended so that you can stream smoothly and without worrying about the performance.
2 PC streaming setup is slowly becoming the new norm as many high tier gamers and streamers are heading towards this setup.
As a beginner, there's definitely no shame in using a single PC streaming setup for both streaming and gaming but, over time, you will feel the need to upgrade as your fanbase is increasing and you will subconsciously feel like the quality of the stream is one of the main ingredients to successfully stand up from the crowd. QUALITY OVER QUANTITY.
Using 2 PC streaming setup will allow for more USB ports, opening up the ability to plug in any extra hardware to your computers.
Easily navigate between the two computers and add more effects without compromising the quality of the stream.
You can use the streaming PC for more than just streaming. For communication, you can also use Discord on it since the application is a bit demanding also.
Minimum Specs for the Streaming PC
If you already have a gaming PC, then it's really easy to build a cheap one dedicated only for streaming. You won't need another gaming computer.
However, the streaming computer specs will hugely depend on the resolution that you're going for; The hardware for 720p @ 30fps will not be similar to 1080p @ 60fps.
Here are the minimum specs you will need to stream at 1080p @ 60fps with no issues. This will cost you less than $500.
Taking for granted that your internet connection is decent enough and you won't open any additional applications like Chrome, this computer will be enough to run your stream smoothly.
2 PC Streaming Setup Equipement
So, you finally decided to get a new computer dedicated just for streaming? Good call. Now, let's get into the real deal, setting up both computers to work simultaneously with no issues.
Before you begin setting up the computers, you will need to know what hardware, software and accessories required to complete this task successfully.
Remember, this is not the one ideal setup. You can always add extra hardware and accessories to amplify your quality, though the fundamentals should stay the same across all the 2 PC streaming setups.
Hardware
Obviously, you will need two separate computers. In addition to your gaming computer, you will need a streaming PC. You can either build a new one following the specs above or reuse an old machine.
Bear in mind that if you're using an old machine as a streaming computer, it should have a good GPU as the encoding will be done by the GPU AND NOT BY CPU for better performance (You can configure this on the software that you will be using).
Software
Once the hardware is in place, it's time to set up the software that you will be using for streaming. The most popular software used for recording and streaming is Open Broadcaster Software (OBS).
OBS is free, easy to use and it's the best streaming application for beginners as it has everything that you will need to start streaming. Even experienced streamers are still using this software to this day.
Other professional streamers are using Xsplit. However, if you want to use some features like scene previews and simplified uploads, stream higher than 720p or even higher than 30 fps, you need to buy a license.
Accessories
As mentioned above, you can be flexible with the number of accessories you have. There's no strict rule which tells you how to set up accessories, but some accessories are necessary for a smooth and better stream.
Microphone
Since you're using two computers, input can be quite tricky. If you're willing to be able to use in-game voice chat and streaming simultaneously, then the microphone should have two channels: one for the streaming computer and the other for your gaming machine.
If you already have two microphones, you can plug the built-in headset microphone to your gaming computer because you won't need high-quality input audio for other players to hear you and a stand-up microphone to the streaming machine or capture card.
Headphones
As you might expect, listening to your stream and the game audio is a bit tricky to setup. You can either use a splitter that many streamers use or after plugging the capture card, the audio will be redirected from the gaming computer to the streaming machine.
If you're going with the second method, then one cable with a single channel is enough. Plug the headphones to the capture card and voila, you can hear both the stream and the game audio from OBS or other streaming software.
Webcam
Using a webcam when streaming is always a good idea to increase the number of subscribers as it will give more personality to the stream.
Webcam setup is not tricky as the above set of hardware. Just plug it in the streaming computer and you're good to go.
2 PC streaming setup with capture card
To prevent any frame drops and guarantee a good level of performance, you will need a capture card. We recommend that you get an Elgato HD60 S or Elgato HD60 Pro.
Normally, if you have a single computer used for both gaming and streaming, the input will be your computer (Through HDMI cable) and the output will be your monitor. However, when using 2 PC streaming setup with a capture card, you simply need to plug the output (USB Type C) to your streaming machine before doing the following:
On the gaming computer, open a YouTube video or a game (something that has an animation). You will need this to determine whether the syncing is working or not
On the streaming computer, open OBS and add the capture card as a video source
The video preview will display
Check the syncing (if there's any lag or fps drop), audio and webcam
If everything is working as expected with no issues, then it's time to set up the stream. In this case we will be using OBS to stream on Twitch:
Grab your unique Twitch key from your Twitch channel. This can be found under Settings > Show Key (Don't share your stream key with anyone)
Go back to OBS > Settings > Stream > Set the service to Twitch (if it's different, select the service you're using) > paste the key to Stream key
Under Output, copy the settings below for the best and stable performance/quality
You are now all set. You can now start playing the game, add your fancy effects and start chatting with your viewers.
2 PC streaming setup without capture card (NDI)
With 2 PC streaming setup without capture card (NDI), you won't need a capture card. NDI, which stands for Network Device Interface, will utilize your local network to send video feed from your gaming computer to the desired destination which is your streaming PC over WIFI or an ethernet cable.
2 PC streaming setup without capture card (NDI) is a video-over-IP solution with low latency and high-quality video.
Connect the two computers. It doesn't matter which method you apply:
Method 1: Connect the two computers through the same router.
Method 2: Connect the two computers to a Switch and then to a router.
Method 3: Directly connect the two computers using an Ethernet cable.
On the gaming PC, download and install the OBS NDI plugin from here
Reboot the computer
Open OBS > Tools > NDI Output settings > check enable NDI Output > set an Output name of your choice and then click OK
On the streaming PC, download and install the OBS NDI plugin
Go to Settings > Video > Set the resolution and FPS to the one you want to stream with
Under Output, copy and paste the settings shown above under 2 PC streaming setup with capture card
Go back to OBS main window > Right-click on Sources > Add > NDI Source > select the source (Gaming PC) > Set the Bandwidth to Highest and Sync to internal
After a few seconds the feed will display on your streaming computer
And that's it! You are now ready to stream your favorite game on any service you want.
You can always upgrade your gaming computer to maximize the quality of your game and stream overall and if you take this seriously and invest good money in your gaming setup by adding new accessories, lights, camera and microphones and also keep streaming consistently, you will get there and why not join the first-tier streamers. The 2 PC streaming setup is essential to level up your game, but not the only ingredient to 100% guarantee your success on any streaming platform you're focusing on; you can have all of the high-quality equipment in the world and the best streaming quality but viewers will leave your stream so fast that you won't notice that. Be yourself and go easy on yourself, you're having fun anyway.
90% of beginners will just give up after their first couple of streams. Be one of the 10% and listen to constructive criticism and build accordingly.
We hope that this 2 PC streaming setup did the job for you. Let us know in the comments if you need any additional information or guides.