Grand Theft Auto (GTA) is undoubtedly one of the most played and beloved games in the history of video games. With its huge and alive world, unique characters and memorable moments, GTA series will always be praised by gamers.
Making GTA V free on Epic Games store is a clear indication that Rockstar team is focusing on making a new game. A marketing strategy that will help further promote the series.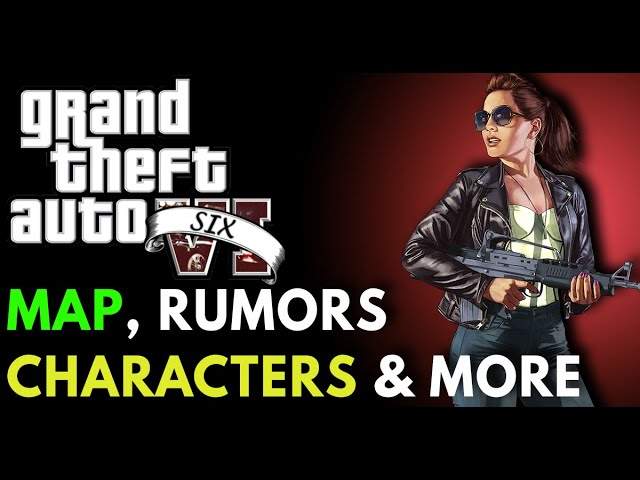 We are all waiting for the next GTA, GTA 6. So, we gathered what we can find about the map, release date, characters and more.
GTA 6 MAP
Leslie Benzies, the former director of Rockstar games always wanted to make a Grand Theft Auto game that has all of the GTA maps in one single GTA 6 map. One French YouTube which goes by the name of Reality Design created the director's dream.
We can find a lot of map concepts on YouTube but this is the best one so far. The map contains iconic places like Los Santos, Liberty City, San Fierro, Vice City, Las Venturas, Route 69 and he also added Mexico which will make the map more realistic.
We are certain that GTA 6 map will be gigantic, and it will take a lot of elements from its predecessors like the unforgettable Vice City. Also, the maps from the previous installments increase with each new game, so it's safe to say that GTA 6 map will be extremely huge (GTA V map is 49 sq miles (127 sq km) size).
Another element that we shouldn't forget, which is the time. Will the game be set in the future or in the past? This will definitely change GTA 6 map design dramatically, and might even integrate new Non-US locations: London for example as it was in the old DOS game: Grand Theft Auto – London 1969.
Since GTA 6 map will be big, transportation will become a problem. We still don't know how Rockstar will fix this issue, but I am sure they will find a creative way to travel across the map faster like using fast travel similar to those found in many games such as The Witcher.
The next GTA will utilize the power of the next-gen consoles, the Playstation 5 & Xbox Series X). This will allow for more details to be added that weren't possible to implement in the previous consoles.
These are the elements that will be affected positively, making the game feel more realistic and alive:
High-quality textures: using 3d-scanned textures from the real world and importing them to the game.
Greater draw distances: this usually causes the FPS to drop drastically, but with this new technology, we will be able to see long distances.
Physics improvement: concerns mainly vehicle movements, characters and different props that the player can interact with.
GTA 6 LEAKS
Leaked Screenshot
When this screenshot was leaked by presumably one of Rockstar employees, gamers freaked out over it.
I still don't know why leaked screenshots are always taken using a phone camera resulting in a bad quality photo. This might be some sort of marketing strategy and the only thing I am sure about is that it works well.
Even with this quality, the game looks realistic and the graphics are beautiful. But, the mini-map quality surely needs some improvements.
Unfortunately, this screenshot is FAKE.
A cool Rockstar logo on the monitor with some debug tools setup on the other two monitors might look convincing, but the character shown was photoshopped. The background image was taken from iStock.
That was a really good attempt and indeed, it looks like the next GTA, but unfortunately, it's not.
The interview that confirmed GTA 6
After just 9 months, DJ Whoo Kid was interviewed by Cinemablend magazine stating that he was present in the next Grand Theft Auto in New York again.
"Again" is the keyword here! This not only confirms that there will be a new GTA but it will also take place in New York.
We are still not certain about this information, but the artist stated that he didn't sign an NDA yet which allows him to say and disclose any information about GTA 6.
Source: https://www.cinemablend.com/games/GTA-6-Rockstar-Make-Sequel-63395.html
GTA 6 Location Details
An unknown and "trusted" source gave Inside Gaming some information regarding the next GTA. The next GTA code is Project Americas and will be set in Miami. We don't know the time that the game will be set in, however, you can tell from the name that it's not only about the US.
The source stated that GTA 6 will take place in both the US and South America. Let's be honest, Rockstar is a business, and a business is always following the trends. In the last couple of years, a lot of movies and series on Netflix and other networks are about smugglers and drug dealers in the '80s between South America & Miami, and since it's called Project Americas, GTA 6 might indeed be set in this time period and in these locations.
Rockstar job advertisement
Rockstar announced that they need a wardrobe stylist who's familiar with modern trends and clothes changing over the years.
This announcement was before Red Dead Redemption 2. But even then, RDR 2 is not set in modern times.
This indicates that GTA 6 storyline will be set in different time periods (80's, 90's).
GTA 6 GAMEPLAY
Another leak came to the surface about GTA 6 gameplay. We might see some noticeable changes to the story and how to accomplish the missions. The missions will no longer be linear and there will be many alternatives and options to finish a mission.
Parkour system might be implemented to provide the player with a greater sense of freedom.
GTA 6 game engine will not be different from Red Dead Redemption 2. So, the combat mechanics will be similar and more realistic.
GTA 6 CHARACTERS
Jorge Consejo – The Mexican character
On Jorge Consejo's Resume and under Film section, "Grand Theft Auto VI (CGI) 2018" is listed and he played the Mexican character.
You can find the Resume here: http://jorgeconsejo.com/video/JorgeConsejo-CV-2017.pdf
Furthermore, back to December 2014, he posted a picture on his Instagram wearing a motion capture suit. He said "Wish I could say! #ButTheStudioWontLetMe"
You are probably skeptical about the picture as it is an old one, but remember, games like GTA take a lot of work and time before publishing.
Here's another picture of the actor retweeting the confirmation of him being in GTA 6.
I am not sure about you, but this looks like it's solid proof that there will be a Mexican character in the game played by an actor from Miami which also confirms the code name: Project Americas.
Tim Neff
Before Tim Neff claimed that it was a mistake and he deleted it from his Resume on Breakdown express, there was a section called "Motion Capture" listing his work on 4 different games:
Grand Theft Auto 6, Red Dead Redemption 2, Reborn and Mercenary Insurance.
The actor said that he was never in RDR 2 nor in any other Rockstar games, but the Red Dead Redemption 2 credits show otherwise. He was listed as a stunt performer in the game's credits as on his Resume.
Tim Neff has also removed a picture off of his profile on Instagram which confirms his involvement in Red Dead Redemption.
GTA 6 RELEASE DATE
When is GTA 6 coming out?
Source: A guest on Pastebin claims that he's a third-party small developer from EU and he was helping a well-known AAA company on a game that will be released in 2020. Taking this information with a grain of salt, he added:
"not hearing anything ps4 related (hearing that Sony is paying huge money to secure 1 month time exclusive for ps5). Been hearing rumors about Miami and New York,so 2 big cities,but im not sure if thats 100% true"

https://pastebin.com/ryZSdCix
The same guy reported a couple of other new titles that will be on the PS5 in addition to GTA 6:
Battlefield bad company 3
Harry potter
Assassins creed
Horizon 2 so far in 2021
GTA 6 SYSTEM REQUIREMENTS
Minimum GTA 6 System Specifications (Predicted)
OS: Win 10 64
Processor: Intel Core i5-4460 3.2GHz / AMD FX-8350
Graphics: AMD Radeon R9 390 or NVIDIA GeForce GTX 970 4GB
VRAM: 4GB
System Memory: 8 GB RAM
Storage: 100 GB Hard drive space
DirectX 12 Compatible Graphics Card
Recommended GTA 6 System Specifications (Predicted)
OS: Win 10 64
Processor: Intel Core i7-8700K 6-Core 3.7GHz / AMD Ryzen R7 1700X
Graphics: AMD Radeon RX Vega 64 Liquid 8GB or NVIDIA GeForce GTX 1080 Ti
VRAM: 8GB
System Memory: 16 GB RAM
Storage: 55 GB Hard drive space