Become the hero who uses a tremendous and destructive arsenal as well as incredible power-ups to save humanity from an alien invasion. Show your skills and determination in order to survive the deadly game set by the evil extraterrestrial creatures. The whole galaxy is watching you and the fate of mankind is in your hands. Face this challenging task in the explosive indie game: BulletRage. For anyone who wants to try it, bulletrage is available as a demo on Steam.
Bullet rage release date is expected on 31 August 2020. The game is currently under development for PC, Xbox, PS4 and Nintendo Switch.
Adrenaline-fueled Twin-stick classic arcade shooter
Chimera One Games team has announced its latest game, BulletRage. At first, bulletrage kickstarter was available in May 2019. This indie game is a cross-genre, adrenaline-fueled experience that seamlessly blends the double-stick action to a classic stick of the frenzy Japanese Bullet Hells and Roguelikes sandboxing. Its adaptive gaming systems create the perfect experience for engaging casual and competitive players.
The gameplay
There are no user reviews until now, but we can see on bulletrage steam that the new hardcore game is about dashing and smashing the hordes of deadly aliens and avoiding hundreds of projectiles. Offering 3 multiplayer types ranging from 1 to 4 players Online, Local Co-op and PvP, in BulletRage, you will use amazing combinations of weapons as well as power-ups to spread chaos in the enemy troops.
Pure mayhem when it comes to battles, with impressive ultra attacks, killstreaks, devastating arsenal and lots of customizations. Your main task is to exterminate your opponents, avoid dangerous traps and survive giant boss fights and hellish challenges. Don't forget that many impressive power-ups like "slow time, rejuvenation bubbles, energy shields, and deployable turrets" can put the odds in your favor!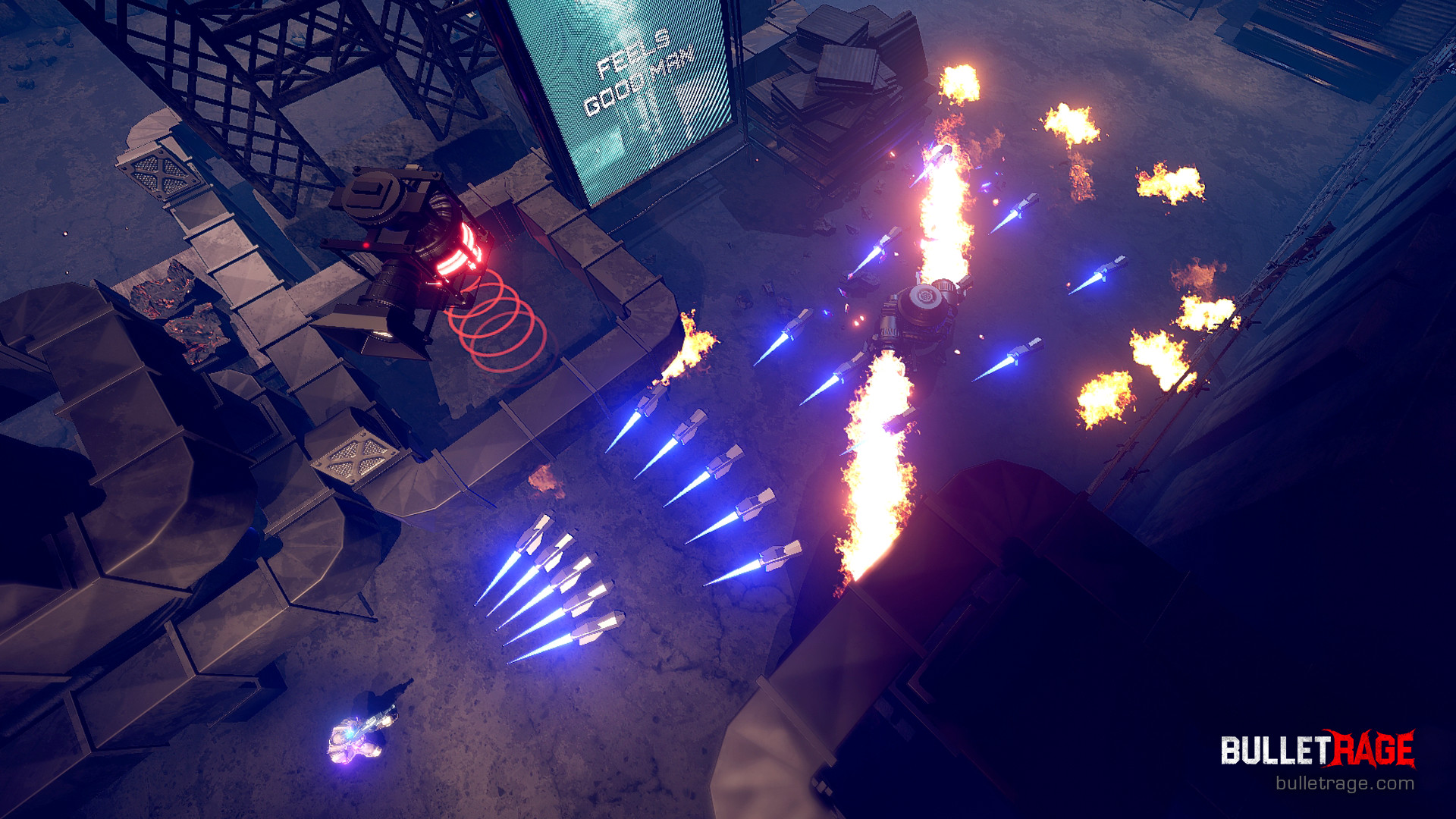 The game is inspired by the likes of SmashTV, Contra, and Doom, so expect non-stop action, intense gameplay, explosions and more. Bullet rage game offers 10 playable characters each with a unique playstyle and different ultras, 5 difficulty modes and a story campaign with 40 levels, which you can complete as a team of 4 players… so there is a lot to enjoy.
If you love to stream on Twitch, then you will get extra carnage and hardship, because bulletrage provides you with a Twitch extension, enabling the viewers to randomly launch additional enemies and obstacles on your way. This will make you mad while enjoying a sweet suffering when you go through all these difficulties, so have fun and unleash your rage.
Other features
There are 5 difficulty levels ranging from Normal, Hard, Insanity and Ultra Insanity to Beyond Infinite, so BulletRage is fully adapted to all players despite their levels. In addition, a multiplayer mode is available allowing you to compete against other players online in different PvP modes. The game also offers a socket system with millions of weapon combinations. Throughout the game, you can acquire multiple achievements to unlock new skins and secret weapons. Finally, you can fight your way to the top ranks of the Leaderboards.
Bulletrage is a promising game that reminds us of the good old-fashioned run n gun games. Chimera One Games development team wanted to renovate the adrenaline-filled gameplay of days gone by. And they succeeded in doing so! They created one of the most intense twin-stick classic arcade shooters. The expected release date will be on August 2020; you can test your skills on the Steam beta version, master your rage and wreak havoc on the alien swarms to save humanity from extinction. Enjoy the challenge!
Check other awesome shooter indie games here!