While more and more titles are available on PCs that can be directly controlled by controllers, most players still prefer to combine a keyboard and a gamer mouse in order to achieve greater accuracy and improve their performance in FPS games.
From versatile to wireless models or those mainly intended for certain genres such as FPS, TPS, MOBA or MMORPG, it sometimes becomes difficult to really find your way around.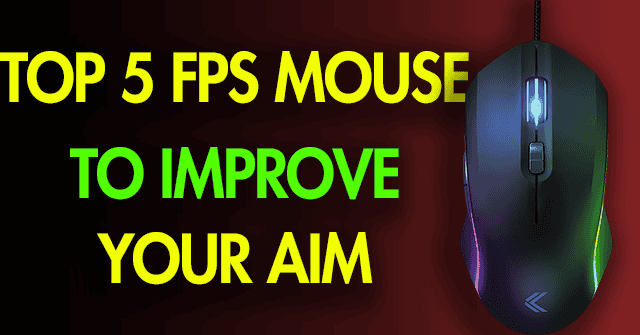 However, by choosing a gaming mouse adapted to your needs and especially to your hand, your in-game performance can be greatly improved. The best models offer much higher accuracy and responsiveness than conventional models and above all offer features that can provide real additional comfort in use. And we all know that if your aim is excellent in fps games like call of duty modern warfare or Battlefield V, this will contribute to getting many frags and thus to ensure multiple wins. So let's see the Top 5 FPS Mouse in 2020 to improve your aim.
There are 2 best fps gaming mice that we couldn't choose one over the other to win the top rank, especially when both of them have many fans and excellent reviews.
Behold the top fps gaming mice 2020: The Razer DeathAdder Elite and the Logitech G502 Proteus Spectrum.
Razer DeathAdder Elite
The Razer DeathAdder is one of the most famous eSports mice in the world. The simple but ergonomic design of this mouse has changed little since its conception in 2006. Although some may be stunned by the flared left and right click buttons, it is hard to deny how comfortable this non-abrasive, sandblasted black finish is.
That said, the centerpiece of the DeathAdder Elite is its sensor, which is a custom PixArt PMW 3389 optic. Originally designed by PixArt in collaboration with Logitech, it has also undergone some modifications to Razer's firmware. Thanks to this, this mouse is incredibly accurate and direct during the game. There is no lag, no jitter, and with a maximum of
16,000 DPIs, thanks to the Razer Synapse software suite, it is impossible not to configure this mouse correctly for all your game scenarios. Elite? Yes! We are talking about the best fps mouse in 2020.
Both simple and efficient, it adapts to most games and offers excellent performance in all cases thanks to its responsive buttons and its accurate optical sensor.
And then there are the switches. Designed with Omron, these beauties offer a mechanical and clickable keyboard feel, thanks to Razer integrating a notch-touch into the switch itself. This mouse is designed to last, with more than 50 million clicks expected before failure.
This top fps mouse 2020 gives you an absolute advantage: the fastest sensor in the world. Designed to redefine the standard for accuracy and speed, this new mouse sensor gives competitors no chance, with a resolution accuracy of 99.4%, allowing you to deliver deadly blows with extreme accuracy. It is the queen of headshots!
Designed and manufactured to offer a real advantage during intensive gaming sessions, this incredible mouse is equipped with new generation mechanical buttons. It adopts an emblematic and ergonomic shape, praised by the best players in the eSports world.
The DeathAdder Elite is the mouse of choice for anyone who enters the actual hyper-competitive world of multiplayer FPS games. It is the best fps gaming mouse in 2020. Equipped with the new eSports optical sensor, a 16,000 DPI sensor and 450-inch-per-second tracking (IPS), this model is second-to-none and it is your number one choice if you want to improve your aim.
Logitech G502 Proteus Spectrum
The G502 is an optical sensor mouse manufactured by the giant Logitech. And if it was released in 2015, it remains very trendy and competitive in terms of its quality/price ratio until 2019. On the design side, it comes with an all-black shell and a dark grey dpi level indicator and wheel. Let's see why this mouse is the top best gaming mouse in 2019.
Its dimensions (13.2 x 7.5 x 4 cm) rank it among the standard models, but it is a little thinner than the average. The grip is therefore generally suitable for the greatest number of people, especially since there is reinforcement at the thumb level. On the other hand, it is destined only for right-handed people. If the mouse initially weighs 121 gr, it is possible to add up to 5 weights of 3 gr each. It is a robust model designed for those who like to have a large mouse.
The G502 has 11 programmable buttons, five of which are accessible by the thumb. The wheel can be operated from the sides, and you can assign functions to it. The configuration is carried out via the Logitech software, intuitive and configurable. This software also allows you to adjust the backlighting visible in the logo because it is a mouse with the RGB function, which allows it to be customized in 16.8 million colors.
While the G502 is not a new mouse, it remains one of the most popular mice among players. Benefiting from a great versatility, it adapts to most of the grips and especially to the majority of the games thanks to its numerous buttons.
The Logitech G502 Proteus Spectrum boasts an efficient optical sensor, adjustable scroll wheel, the presence of a "Sniper" button to make it easier to aim when playing FPS games. It has also an adjustable weight tuning system that also allows you to change the weight of the mouse.
The Logitech G502 includes 12,000 dpi, programmable in five sensitivity levels. Its refresh rate can be adjusted up to 1000 Hz, which guarantees an excellent level of accuracy. In short, if you're looking for a right-handed gamer mouse that's versatile, impeccable in design and handling, all at a standard price, the Logitech G502 is a sure thing. Its many programming possibilities should satisfy all gamer profiles, that's why it shares the first rank with the Razer DeathAdder Elite. If you are looking for a gaming mouse to improve your aim the G502 is your optimal choice.
Logitech G903 Lightspeed
The only wireless mouse on this list is here for a reason: not only is it the best wireless gaming mouse, but it's also the best gaming mouse you can buy if you want to spend money. The Logitech G903 Lightspeed is expensive, but it certainly deserves its price. It can also be used in wired mode, by plugging in the included micro USB cable, making it a fantastic device and the top wireless gaming mouse in 2020.
The G903 Lightspeed is particularly lightweight, weighing 110g and using Logitech's famous PMW-3366 sensor, which is very reliable regardless of the DPI configuration chosen, with no acceleration or jittering cursor movement problems. The G903's ambidextrous configuration includes removable thumb buttons on each side, making it ultra-versatile, especially with its adjustable ergonomics and 11 programmable buttons. It is suitable for both right-handed and left-handed players. The G903 also features a unique system, a pivot bar click mechanism that provides the best click feeling ever.
With its wireless and latency-free connection, interchangeable side panels, adjustable weight and wireless charging thanks to the PowerPlay system, the Logitech G903 is clearly one of the most complete mice in the industry and the best wireless mouse.
This mouse has a 1 millisecond Lightspeed wireless connection and offers professional-quality performance, accuracy and responsiveness. The G903 mouse is one of the lightest and most responsive wireless gaming mice on the market today.
KLIM AIM Chroma RGB
This gaming mouse provides flawless accuracy. This model offers a new skin and a better grip! Indeed, the KLIM AIM Chroma RGB incorporates a latest-generation laser sensor with a response time of only 2ms. It is easy to handle because the ergonomics are perfect.
The KLIM pilot of the device offers the possibility to choose the colors of the lights, the effects, the sensitivity or the configuration of the buttons. The latter also allows an increase in the maximum number of IPRs from 3500 to 7000. In addition, the color effects are really varied. In short, a real show! In addition, please note that this tool can work
without any drivers. It's not for nothing that it is called the KLIM AIM, this mouse will certainly improve your aim and it is one of the top 5 gaming mouse.
SteelSeries Rival 310
Presented alongside the Sensei 310, the SteelSeries Rival 310 comes in the form of a simple but terribly effective gaming mouse. Designed for right-handed players, it provides excellent comfort despite its rather imposing size. Both Claw Grip and Palm Grip fans should find it comfortable and interesting.
On the performance side, this mouse is equipped with a 12,000 DPI optical sensor offering one of the best tracking abilities in the industry. It is Ideal for FPS/TPS. The Rival 310 offers great accuracy that can improve your aim, that's why it is among the top-rated gaming mice.
Logitech G402 Hyperion Fury FPS
As its name implies, this is one of the best fps gaming mice in 2020. This mouse takes up the challenge with its 4000 dpi sensor that ensures accuracy and reliability. This resolution is adjustable on-the-fly thanks to the 2 dedicated buttons (+/-) to allow you to change your sensitivity right in the middle of the game.
On the ergonomic side, the G402 Hyperion Fury gaming mouse has a sleek design. To make it easier to hold, it has also taken care of her coating by perfectly studying the positioning of your hand whatever it is. For a gamer, there are generally two types of positions on a mouse: "palm grip" and "claw grip". The G402 is suitable for both, as the Anti-fingerprint coating, as well as the hydrophobic coating, prevents adhesion phenomena. Improve your aim in fps games thanks to this great gaming mouse.
Frags and wins can be determined by the speed and accuracy of the mouse you use. We hope that this article will help you choose the best mouse to improve your aim in your favorite games.