Few video games have been as expected in recent years as the promising Cyberpunk 2077, the next action-oriented RPG title from CD Projekt Red. With the arrival of a Hollywood star appreciated for his naturalness and his enjoyable action films, Keanu Reeves, the whole internet stopped breathing for a few minutes.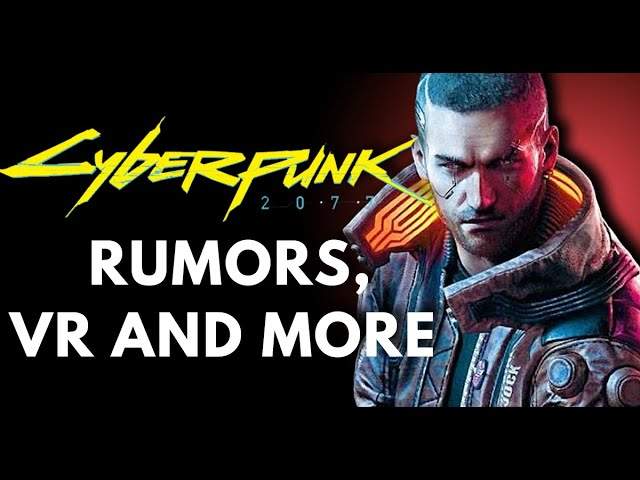 A few weeks ago, we were horrified to learn that the CD Projekt game was postponed for several months. Indeed, Cyberpunk 2077 was originally scheduled for release on April 16, 2020. However, the Polish studio decided to postpone this release until September 17th, 2020. News that raised a wave of sadness among players who hoped to venture the streets of Night City as soon as possible.
After news of the delayed release date of Cyberpunk 2077 came in, rumors started flying. Here is what we know so far together with Cyberpunk 2077 news update.
Cyberpunk 2077 The Denied Rumors
Game development is a difficult and complex task that only those who have done it can testify to the process that causes headaches.
Close to the developers of CD Projekt RED, scriptwriter and director Borys Niespielak recently shook up the social networks by stating that the Xbox One version of Cyberpunk 2077 was highly problematic because the "extremely unsatisfactory" performance of Microsoft's console did not allow the game to run properly. This would have forced the teams to postpone the release of the title to next September in order to avoid many negative feedbacks.
Amused by this rumor, Cory Barlog, game director of God of War, replied by suggesting that there was nothing serious and that it was something recurrent in the industry: "EVERY game runs badly until you optimize for the hardware in the final push before gold."
These rumors made CD Projekt RED react. On the forums of the Polish studio, Philipp Weber, senior quest designer of Cyberpunk 2077, justified the new release date of the game (September 17th) with new answers and said that Barlog: "hit the nail on the head." He also clarified: "Of course we're optimizing for the Xbox One, and for the Playstation, and for the PC, because that's what you do in the last stretches of game development,"
"While the game is made, lots of things are unoptimized, because they're all in flux, changing, and still not finished.
"So simple answers like 'They delayed the game because of X' might make for a good rumor, but don't hold a lot of truth. There are always many reasons.
"Among them, and I can speak for myself, simply fixing bugs, so the game is as polished as possible. No hidden agendas, just working on making the game better."
So here it is, the Polish Studio says that Cyberpunk 2077 rumors are a bunch of nonsense. While the title has certainly been hit by a significant delay, the official word is that the development team is simply working on improving the game and focusing on making the experience as refined as possible. We hope that the game will live up to expectations later this year.
News update about the multiplayer mode of Cyberpunk 2077
In a Q&A with investors, the Polish studio indicated that the multiplayer mode would probably not be available before 2022. This may seem like a long time, but we now know more about how the studio operates.
"In terms of multiplayer, one thing we need to make clear is the triple-A release we're working on in parallel with CP2077 is Cyberpunk multiplayer," said CD Projekt head of business development Michal Nowakowski. He also made some clarifications:" 2021 no longer appears to be a safe date for Cyberpunk 2077 multiplayer. But we're confident that the game will be released on September 17". According to these cyberpunk 2077 news updates, it is, again, better to wait for a little and have a game that is worth playing.
75 unique story-based side missions
In addition to the main adventure, which we already imagine to be quite dense, we have an accurate Cyberpunk 2077 news update confirming that there will also be other small side missions, entitled "Street Stories". These will be random events that will be discovered as you move through the streets of Night City.
In an interview with ONMSFT, John Mamais, the game's producer, explains the studio's vision: "There's a couple of layers" to the side quests in Cyberpunk 2077. "There's a passive layer, which is the vendors, then there's the STSs, which are the street stories. I think there's around 75 street stories. Then there's minor activities as well."
He also added, "The street stories are like little quests. There's story but there's not, like, advanced cinematic storytelling sequences so much. They're a way to explore the world and level-up your character."
When asked if these Street Stories are procedurally generated, he clarified: "They're all custom done, there's nothing like that's automatically generated. There are set templates that the guys can use but each one is customized to make them feel unique. The world's going to be filled with that stuff. It should feel really good."
Therefore, if we are expecting 75 tailor-made side missions, this means that Cyberpunk 2077 is going to be a very massive game.
Cyberpunk 2077 on Nintendo Switch?
Here are some cyberpunk 2077 news update about whether the game will be available on Switch or not.
Is the Nintendo Switch strong enough to run Cyberpunk 2077? That's a question John Mamais tried to answer in an interview. The producer of CD Projekt is pretty clear on this point, saying that there are no plans for a Switch port at the moment, but this doesn't mean it won't happen.
"I don't know if Cyberpunk 2077 would work on the Nintendo Switch. It might be too heavy for it," he said. "But then, we did put Witcher 3 on it and we thought that would be too heavy too but somehow we pulled it off."
Of course, you can imagine that if Cyberpunk 2077 were to be released on Nintendo Switch, CD Projekt would have to downgrade the graphics. But after all, is the quality of a game based 100% on its aesthetics? Many games that look great graphically aren't particularly striking or well-thought-out. That's to say a Cyberpunk 2077 Switch version is possible, but we need to wait for more accurate information about this topic this year.
Grimes, the Canadian singer, as Lizzy Wizzy in Cyberpunk 2077
While all eyes are on Johnny Silverhand, played by Keanu Reeves, other world celebrities are expected to join the cast of Cyberpunk 2077, including Lady Gaga, according to some Cyberpunk 2077 rumors, and the Canadian singer Grimes.
In a recent Livestream, the Canadian artist revealed some juicy details about Lizzy Wizzy, the character she will play. If she hasn't tried the game herself, Grimes was able to watch someone walk through Night City for an hour.
In Cyberpunk 2077, Grimes plays a pop star named Lizzy Wizzy, who ends her life on stage. A medical team quickly intervenes and carries out an operation on the star while her corpse is still in the spotlight. With her entire body replaced by cybernetic components, Lizzy Wizzy is brought back to life as a cyborg and completes her performance.
The singer hasn't given any further details, and it's impossible to know whether the players will witness the scene during a mission or whether the pop star will simply tell her story to their character.
Cyberpunk 2077 Ciri
Ciri from the Witcher in Cyberpunk 2077; is there a chance to see The Witcher's heroine again in the new CD Projekt RED game?
After a trailer during Microsoft's E3 2018 conference presenting an ultra-promising universe, Cyberpunk 2077 had again been talked about in a rather unusual way. Indeed, a fan had recreated a trailer by adding Ciri's words from The Witcher 3, another CD Projekt RED production.
What's the connection between the two? Ciri evokes having traveled through a portal into a world whose description fits rather well with the future cyberpunk where Transhumanism and technology have reached an ultra-advanced level. Obviously, fans would love to see her appear as a cameo, but that's apparently not going to be the case… Anyway, let's dig just a bit deeper.
In fact, game director Adam Badowski was interviewed by Polygon and he's obviously not a fan of the idea, because here is his reaction when the question about Cyberpunk 2077 Ciri came up: After saying that he hates this question, his exact comment was: "We are not Kingdom Hearts," he told me. "We are not joining universes, and I know that there are a lot of fans on the team and they would like to have Ciri in the game. But I am totally against it, still."
So he clearly hates the idea, the notion of crossover doesn't appeal to him at all even if some in his team are interested. To drive home this point, the CEO of the studio Marcin Iwiński, who was also present during the interview, wanted to leave a door open by saying that he might perhaps change his mind in the future, to which the director replied: "There is a little hope there."
You are now informed; if you were hoping to see Ciri in this new adventure, you should know that possibilities are slim unless Marcin Iwiński manages to have the final word. If this should happen, her appearance would be a little Easter egg of some sort, a random encounter easily missed or also a small appearance in a short cinematic; she won't be part of the story. Maybe her description will be told through other characters… You might run into her in Night City but she will make a quick exit.
Cyberpunk 2077 VR
CD Projekt has tried to make a virtual reality version of Cyberpunk 2077, but it is not likely to be offered.
Cyberpunk 2077 VR was planned and was expected to be phenomenal. Unfortunately, after working for months on the VR element, the studio announced that they are throwing in the towel and giving up on virtual reality.
So we should not wait for a VR-compatible version since obviously CD Projekt Red has abandoned the idea as it was not convinced by the viability of such a version of its title. In a statement OnMSFT, John Mamais, head of the studio, explained the reasons behind giving up on Cyberpunk 2077 VR:
"We tried. We were thinking about VR but, yeah, we're not doing anything with VR. We got the VR dev kits but… some things would work in VR but, I think, it's not really viable yet.
You're not making a lot of money in VR yet. It's very experimental and niche, yeah. I would like to. I like VR but we're not doing anything with it yet".
Cyberpunk 2077 will therefore not be released in virtual reality, at least for the moment. John Mamais has indeed explained that the RV market is not profitable enough and that the project has been set aside. He added that the studio could reopen the VR project later, probably after the release of the multiplayer mode. At that time, the VR market could be more mature and more profitable financially.
For now, it looks like Cyberpunk 2077 will only offer an experience to be discovered on a standard monitor or a classic TV set, without virtual reality headphones on your head.
Cyberpunk 2077 3rd person
Just like The Witcher, Cyberpunk 2077 is an RPG. But the similarities end there. While the first offered a third-person perspective (TPS), the second imposes a first-person perspective (FPS).
Cyberpunk 2077 is undoubtedly an FPS game even though the cutscenes and the driving are often in the 3rd person.
The game will be played in the first-person perspective. A new combat system has been developed around this perspective, including the use of weapons, knives, abilities, and even combat stimulants that may offer a bonus, such as improved speed. Players can still switch to a third-person view when driving vehicles.
When asked about Cyberpunk 2077 3rd person when riding vehicles in Night City, John Mamais answered: '' Yeah, in the vehicles you can but just in the vehicles". As for the availability of 3rd person perspective in the cutscenes, he said: ''Yeah, I don't think there are any third-person cutscenes in the game as far as I know. There might be some at the beginning and at the end but I'm not sure on that''.
Then he explained: '' The cutscene system is a very ground-breaking RMD thing for us to get it very seamless. So that you stay in the game"… "For example, narrative sequences are happening in front of you and you have some control over the character so you don't feel like you're watching a movie."
The cutscenes in Cyberpunk 2077 will ultimately be in 1st person view, even though the teasers have already shown 3rd person images.
According to John Mamais and to CD Projekt Red's community lead, the decision to make the game "100% first person" is to enable the players to benefit from full immersion in the game, but we'll still be able to see our character in mirrors, in the inventory and in "some" of the cutscenes.
Stay tuned for more news and details about the most anticipated game of the year. We remind you again that Cyberpunk 2077 release date was delayed until September 17, 2020. The DEV team who is working remotely now said that they are working diligently to ensure that even the pandemic won't manage to oblige them to postpone the release date again. "We are rising to the challenge and showing no signs of stopping".