If there is one thing all first-person shooters have in common is the use of guns to aim and fire. However, there are some games that raise the shooter genre by providing unique experiences and flavors that set them apart.
Escape from Tarkov has now become one of the most well-known FPS available, with its post-apocalyptical setting and satisfying PVP.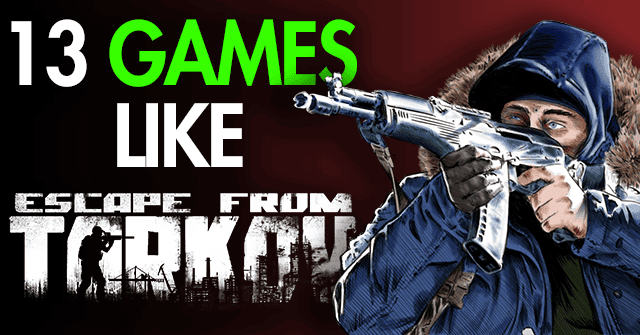 However, some players may be looking for games like Escape from Tarkov in order to renew the experience with another title. Throughout this article, we'll be reviewing the best games like Escape from Tarkov. 
S.T.A.L.K.E.R: Call of Pripyat
The first game on our list of games like Escape from Tarkov is S.T.A.L.K.E.R.: Call of Pripyat. It was created by CSC Game World and released in 2009 by GSC World Publishing/Deep Silver exclusively for Windows PC. 
S.T.A.L.K.E.R.: Call of Pripyat is among the best games like Escape from Tarkov in terms of gameplay experience. It takes place in the made-up Chernobyl Exclusion Zone and tells the tale of a government agent charged with looking into strange events in the region.
This game is a must-play for anyone looking for a game that is as difficult as it is engaging thanks to its immersive ambiance, intense firefights, and complex mechanics.
Another element that ups the tension in S.T.A.L.K.E.R.: Call of Pripyat is the struggle between various factions fighting for control of the city. To survive in this wasteland, you'll need to be cautious in handling your inventory, one of the game's most crucial aspects.  
Battlefield 2042
Don't be deceived regarding Battlefield 2042's low Steam ranking, Dice is not always the greatest developer, but when they are, they are excellent. There is no question that the newest Battlefield game will be a good online shooter due to its solid background. 
Combining aspects from various contemporary blockbusters and setting the game in the near future, Battlefield 2042 offers a variety of amazing gameplay possibilities. Although it has a single-player story and is set in a more vivid environment than Escape from Tarkov, it has an active online community and places greater importance on the squad, and strategic gameplay than previous triple-A shooters. 
DayZ
Despite its origins as an Arma 2 additional content, DayZ is the original multiplayer survival shooter. It now plays like a survival looter shooter game.
When players are subjected to gas attacks, a deadly gas is released that results in bleeding, vomiting, and eventually unconsciousness and death unless they leave the area and seek medical help. This is just one of DayZ's many fascinating characteristics.
Characters suffer from hunger, dehydration, and hypothermia, so food, water, and medicine are required (like a blood transfusion).
You play on a server with up to 60 other people. Other players can assist, attack, or steal your resources. You lose everything when you die, and friendly fire is always present.
Back 4 Blood
Back 4 Blood, a spiritual successor to their original game with a few new tweaks, comes from the creators of Left 4 Dead. Back 4 Blood, like PayDay 2, is a PvE shooter that requires constant teamwork as you fight off wave after wave of enemies. Unlike PayDay 2, however, this game, like Escape of Tarkov adheres to the apocalyptic survival setting. 
As you progress through each playthrough of Back 4 Blood, you can pick up and switch out randomized cards that grant you various buffs. Matches contain copper, which can be used to craft new weapons and offer another aspect of strategy. In Back 4 Blood's versus mode, Players can assume the parts of both humans and zombies.
Vigor
Vigor is the latest multiplayer looter-shooter from Bohemia Interactive, the studio behind the ultra-realistic ARMA series and the survival game DayZ.
Despite the fact that you are never required to engage in combat if you don't want to, the objective of this game is to upgrade and maintain your own shelter in order to defend yourself from threats like other players. You might discover that it's preferable to conserve your supplies as much as you can and to engage in combat only in defense or to obtain care packages. 
On the bright side, when you're back at your base, you can use your hard-earned loot to craft some sweet gear to help you survive. Some folks have compared Vigor to Escape from Tarkov, but without any pesky zombies to worry about, just other human scavengers looking to take you down and snag your loot.
Rust
A distinctive fusion of punishing survival games and arcade-style weaponry can be found in Escape from Tarkov. The game that most closely resembles this pairing is Rust. Rust is more preoccupied with player manipulation and griefing than Tarkov is with gunfights and resource management
You spawn into the world naked, holding only a stone. From there, you proceed in typical survival fashion, cutting down trees and constructing shelters until you develop modern technology. Except in Rust, much of the game revolves around psychologically duping players into assisting you, only to stab
Metro Exodus
Metro Exodus is a single-player narrative game with an amazing sci-fi scenario. Players will have an unforgettable experience thanks to the game's flawless fusion of a fast-paced shooter, a strategy survival sandbox, and an immersive simulation. The game's post-apocalyptic depiction of Russia, which functions as the main setting, will appeal to fans of the Stalker and the Escape from Tarkov series. Anyone looking for a game that is both exciting and thought-provoking must play Metro Exodus because of its intense action, grimy ambiance, and impressive attention to detail. 
Metro Exodus is not as severe as Tarkov, a shooter recognized for its tremendous difficulty, which is unlike your usual arcade shooter. You need quick reactions, a clear strategy, a tactical mindset, and a well-stocked inventory to survive in the game. Resources are limited, thus tact and prudence are essential.
Squad
First-person shooting game enthusiasts may be familiar with Squad. In this contemporary PvP-style game, which was launched in 2020, two factions of 50 players compete with one another for dominance. Each faction consists of a number of squads, each of which has nine participants and a squad leader in charge of communication both within the squad and with other squads.
To emerge victorious, you'll need to be strategic, carefully positioning yourself for calculated moves, and constructing defensive positions to gain control of the map. With so many players involved, battles can become incredibly intense, featuring helicopters, drones, vehicles, and various heavy weaponry. 
If they want to keep their squad fighting and alive, players must pay careful attention to their squad's stamina, supplies, and logistics system. It's a game that highlights how important cooperation and communication are key to success. Even though it's not a simple game, the joy you experience when everything works out perfectly is immeasurable. Squad is a game that will keep you interested and on the edge of your seat with its difficult gameplay, realistic graphics, and immersive mechanics. 
7 Ways to Die
Although the PvE experience in Escape from Tarkov can initially be thrilling, it can easily turn monotonous and predictable. The scavs in the game are either terrible shooters or just plain stupid, so they serve more as a warning to players nearby than a real danger.
When those engagements become tense, few games can replicate the sheer terror. 7 Days To Die, a first-person zombie survival game in which players must survive as long as possible comes close. Unlike other zombie games, 7 Days To Die intelligently balances zombies so that they are always a threat. Slow zombies can serve as warning signs for faster, more lethal variants. If you survive the seventh night, expect an onslaught of bloodthirsty nightmares to descend on you. There is no other survival game with such engaging PvE content. 
Hunt: Showdown
If you think Tarkov's setting is too modern but enjoy everything else, Hunt: Showdown is the best alternative you can find.
This game like Escape from Tarkov focuses on small-scale engagements in which your character's gear is at stake. The 1890s era of weaponry and cultish equipment gives the game a distinct style that distinguishes it from Tarkov's more blazing military setting. Satisfying gunplay, meaningful PvE engagements, and losing all of your gear on death make this a comparable but distinct experience. 
Post Scriptum
The next game on our selection of Escape from Tarkov alternatives is Post Scriptum. It's a tactical first-person shooter with a World War II motif. Developed by Periscope Games, distributed in 2018 on Windows by Offworld Industries.
The game offers tense 40v40 battles. You'll be given a specific class position within your group, which gives the gameplay an additional layer of immersion and strategy. To win, you'll need to collaborate closely with your teammates, whether you're a healer, a rifleman, or a tank driver. Fans of tactical shooters and military simulations will enjoy Post Scriptum's massive battles, realistic graphics, and immersive action.
Deadside
If you're on the hunt for a heart-pumping survival shooter, look no further than Deadside! this game has gained a lot of attention due to its thrilling gameplay and addictive loop. Whether you're scavenging for resources, engaging in tense firefights with other players, or exploring the game's massive open world, there's never a dull moment in Deadside. With its detailed graphics and immersive mechanics, this game is a must-play for fans of the genre. So why wait? Jump into Deadside today and start experiencing the thrill of survival in a dangerous and unforgiving world!
Fortunately, Deadside also allows you to construct a base inside the map, replete with a light crafting system that enables you to make practical things and tools to help you survive. To keep your stash secure and out of the hands of other participants, you should build a sturdy base.
Of course, there's always a risk that other players will find and loot your stash – but don't worry, you can always return to your dead body and loot yourself if you need to. With so many dangers and challenges to contend with, Deadside is a game that will keep you on your toes and constantly engaged.
Hell let loose
You ought to give Hell Let Loose a look if you enjoy video games like Escape from Tarkov. This first-person shooter with a World War II theme is difficult, intended for multiplayer play, and offers a variety of game modes to keep you interested. Hell Let Loose, a game created by Black Matter and released by Team17, has intense action, realistic graphics, and carefully thought-out settings.
In order to capture goals and outwit enemies, Hell Let Loose, a multiplayer first-person shooter, places strong stress on strategic teamwork. The game's emphasis on realism, tactical action, and immersive mechanics are similar to Escape from Tarkov in a number of ways. Hell Let Loose is certainly worth a try if you enjoy games like Escape from Tarkov and are looking for a new challenge. See if you and your team can withstand the chaos of battle and prevail. 
You should certainly look into the games on this list if you liked Escape from Tarkov and are looking for others with a similar aesthetic and gameplay.
If you're a fan of Escape from Tarkov and looking for similar games, you're in luck! This list features games that share many similarities with Tarkov, from their gritty settings to their engaging gameplay mechanics and challenging objectives. Whether you prefer tactical shooters, survival games, or immersive simulations, there's something on this list for you. So take a look and see if you can find your next favorite game!
Whether you prefer single-player or multiplayer experiences, futuristic sci-fi worlds or historically accurate World War II settings, there's something on this list for everyone. So don't hesitate to give one of these games a try – we promise you won't be disappointed!